Welcome to Racecourse Road
Showcasing the best that Ascot and Hamilton has to offer, the leafy Racecourse Road precinct has never been better!  Surrounded by history, it is one of a kind with its traditional links to the Eagle Farm Racecourse at one end and river access at the other.
More than 170 businesses including cafes, restaurants, bars, boutiques, fresh food, beauty and services in a historic, tree-lined boulevard.
There are so many reasons to visit Racecourse Road with both wide variety and unique offerings in one walkable precinct!
Get your dining on with alfresco cafes, brunching, international flavours, vegan delights, quick bites, sweet treats, brews and bars. 
You can shop for fashion, shoes and gifts with unique stores you won't find anywhere else.
Take some time out to pamper yourself with hair, skin, nails and massage specialists.
Prioritise your wellness, with a wide range of medical, dental, allied and natural health providers right on your doorstep.
Get your life sorted with banks, finance, law, travel, property and everything you need to tick off your list of errands.
Take in the village feel and evening ambience
Racecourse Road is close to the city without the hustle and bustle.  Iconic poincianas and subtropical plantings give this tree lined boulevard a calmer atmosphere and a more relaxed vibe with a friendly, village feel.
At night, Racecourse Road is next level as warm, bud lighting in the street transforms the precinct into an evening wonderland!   It makes that dinner out extra special, when you can take a stroll to enjoy the lights in the trees while you make room for dessert! 
Steeped in history and character, this laid back but authentic precinct has been anchored at the Lancaster Road end by the Eagle Farm Racecourse for more than 150 years with the entry to the racecourse an iconic structure. In 1865, the first race meeting was held at the Brisbane Racecourse (now known as Eagle Farm Racecourse) and the tradition continues today with an active raceday and events calendar. During World War II, Camp Ascot at Eagle Farm Racecourse became the first US camp established in Australia.
Next to the Eagle Farm Racecourse and Ascot Park, is the Ascot Station.  The railway line from Eagle Junction to Ascot Station (originally called Racecourse Station) was opened in 1882 and was originally used exclusively for race days.
With its expansive green lawn, St Augustine's Anglican Church has been both the physical and community heart of the precinct since it was completed in 1920.
The Hamilton Town Hall at 36 Racecourse Road was built in 1920 as the Hamilton Town Hall and Hamilton Town Council Chambers. It is now home to the Hamilton Library and the Community Hall and has long associations with the cultural and social life of the Racecourse Road Precinct.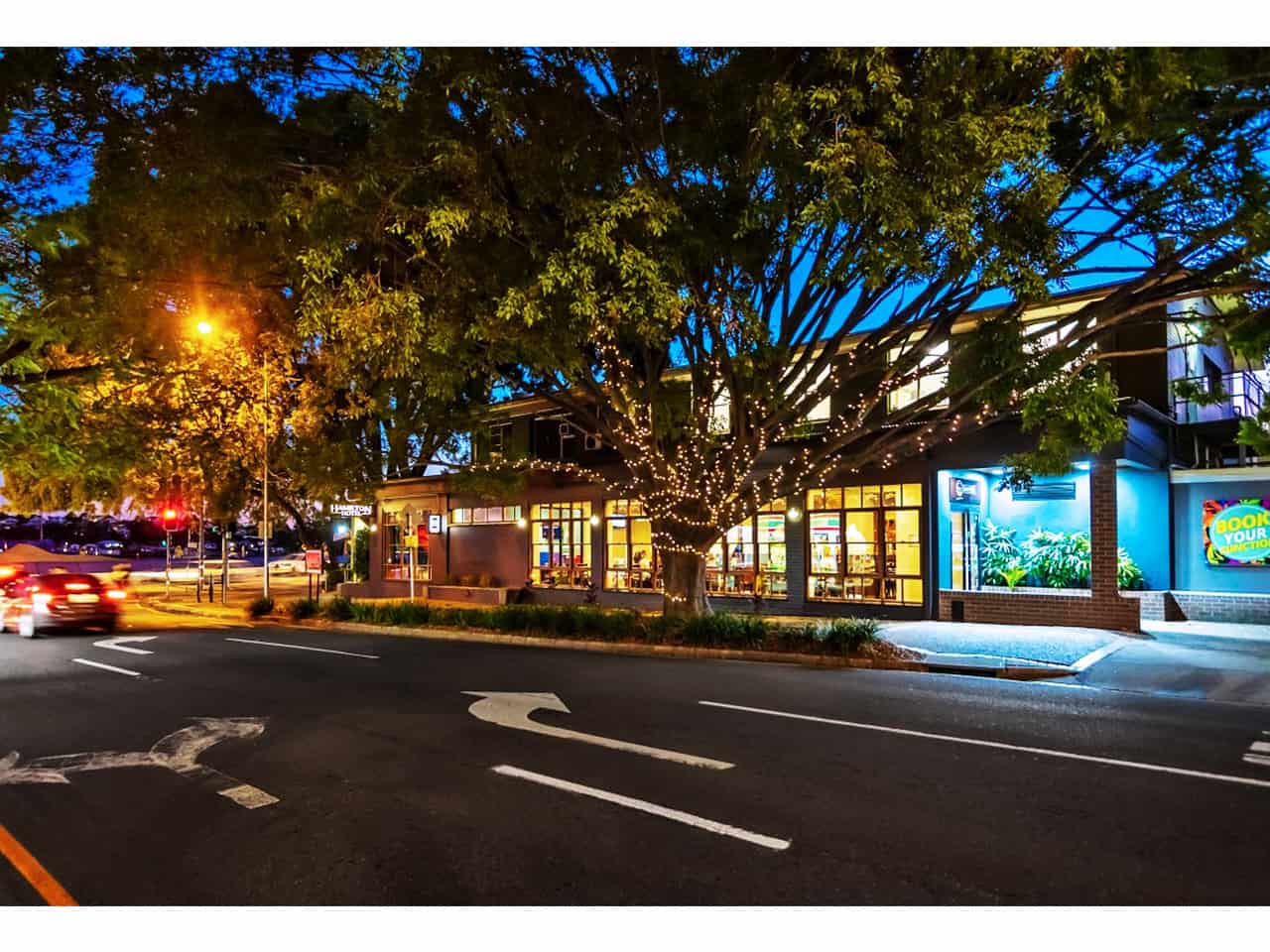 At the river end, the Hamilton Hotel, has been established on the corner of Racecourse Road and Kingsford Smith Drive since 1865 and the suburb was named after it. 
Take a stroll using the Ascot and Hamilton Heritage Trail to see the sites that have shaped Racecourse Road's history, and more.
This website was launched in 2023 by Brisbane City Council through the Growing Precincts Together project to promote, activate, refresh and support the Racecourse Road precinct.
Visit Racecourse Road & discover its charm first-hand
Some things have to be experienced to be truly appreciated. Visit Racecourse Road today and discover its unique appeal for yourself.